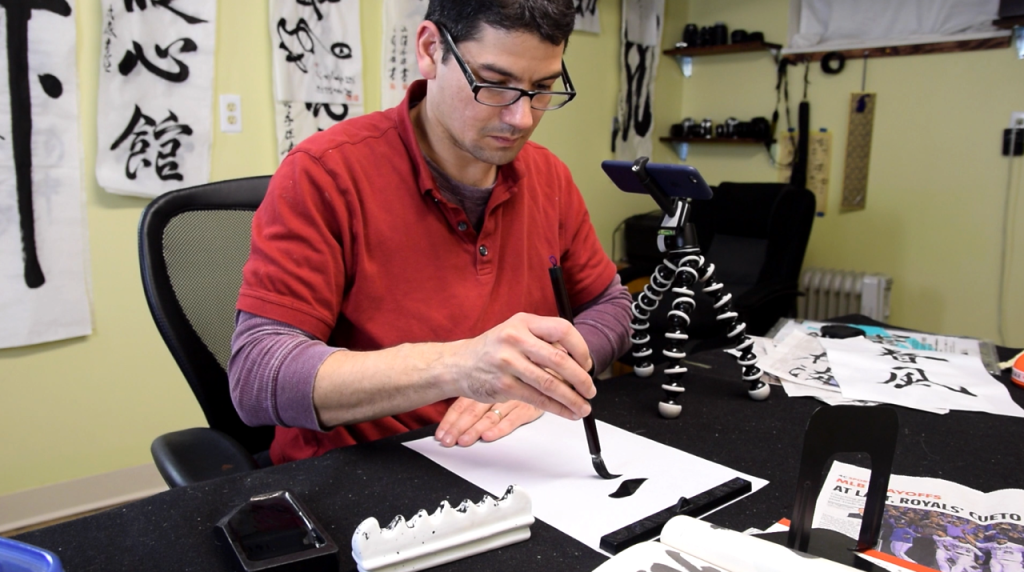 Last week I asked members of the Gohitsu Shodo Studio's email list to ask me anything.
And they did!
Wow, I'm so humbled and flattered that so many of them took the time to write me back. I haven't replied to anyone directly yet, so if you haven't received an answer don't take it personally. I'm still going through all of them and I promise I will answer them all one way or another, whether is here via email, a personal message back to you, or through a video on my YouTube channel. No matter how long it takes me.
Today I want to answer the following question.
Oskar from Finland asked:
"What is, in your eyes, the best shodo work you've done?"
Thanks Oskar for the question.
I have two answers to this question. The first one is a short and classic, somewhat cliche, answer. And the second one is a little longer and more practical answer.
Every artist will always say that their best work is the one that has yet to be created. I second that. It's kind of a cliche, yes, but it's true. Shodo is a life long practice. You never stop learning and improving. Therefore, your work tomorrow will always be better than your work today. The only way this statement ceases to be true is if you stop practicing. Then, you have an archive of work that you can go through and pick your best. However, as long as you're active in your practice, the best one has yet to come.
My second answer to this question is that my best work is the last one I did. As a cook I learned you will always be judged by the last dish you put out. It doesn't matter if you've won awards, or ran a restaurant that got rave reviews. If a customer went to eat at your restaurant last night and had a bad experience you will be judged by that bad experience. You sucked today, therefore you will always suck in that customer's mind. You can go ahead and explained him how you were named "Best Chef of the Year" two months ago. He won't care. You served him a shitty meal, therefore you suck. I take this approach to everything I do creatively, calligraphy included. If I brushed a crappy scroll and send it to someone today, that person is going to think I suck at Shodo. It won't matter I brushed the most awesome Aikido calligraphy two months ago. I suck at Shodo.
I can pick a few calligraphies I've done over the years and I may consider them my "favorites". I don't own any of them– I've either sold them or given them away. There are a handful of Aikido scrolls I've brushed that I really like. There is a calligraphy of "kokoro-mind, heart" that I did many years ago that's awesome. I liked every single calligraphy I've sold or given away, otherwise I wouldnt've have shipped it. I stand behind every single calligraphy I've brushed and pass along to someone else.
As a Shodo practitioner you can't get caught up in the pressure of perfection. No calligraphy will ever be perfect. Shodo is a visual representation of your state of mind. You are not perfect, therefore your calligraphy can't be perfect. Nevertheless, your calligraphy must come from a clear state of mind, focus, and concentration; only then is your expression pure and sincere.
Since I said my best work is the last one I did, here is a pick of my best work. It is the Kanji I brushed tonight for April Daily Kanji. It reads "toki" and means "time, moment".