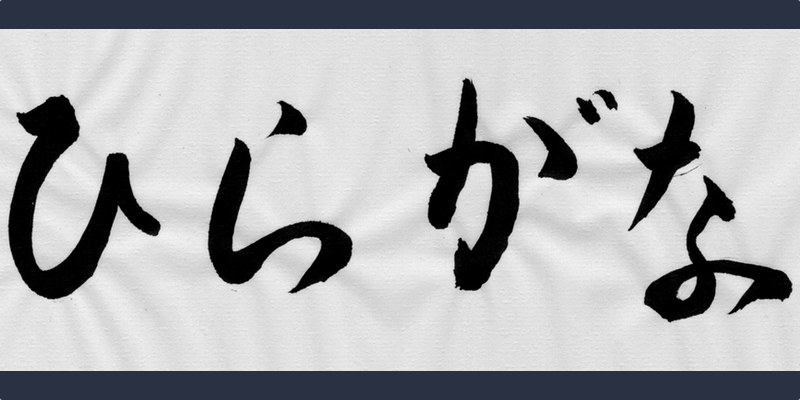 Last week I wrote about the difference between Chinese and Japanese calligraphy. Both styles use kanji (Chinese characters) but differ in aesthetics.
Like I said last week, the main difference between the two is the use of kana in Japanese calligraphy.
But what is kana? And why is it important when practicing Shodo?
Kana stands for hiragana and katakana; two syllabaries used in Japanese.
The Japanese spoken language is fairly simple. However, its written form is not. When Japan introduced Chinese characters, they had to adjust their pronunciation, and sometimes their meaning, to fit them into their language. This is why kanji have two pronunciations: the original Chinese and the Japanese pronunciations– known as on-yomi and kun-yomi respectively.
However, kanji still didn't play nicely with the Japanese language. They had no way to inflect verbs and adjectives, for example. So they had to create a separate writing system to fix these problems.
For example, let's take a look at the word "eat".
This is the kanji for "eat":
食
The Chinese pronunciation is SHOKU. The Japanese pronunciation is ta.beru.
Now, what if I want to say "ate"?
Well, taberu means "to eat". And tabemashita, its past tense, means "ate".
How can we make SHOKU represent this?
With hiragana!
Here is when hiragana comes into play. TA is the stem and is represented with the kanji SHOKU. RU and BEMASHITA are represented in hiragana to conjugate the verb.
So you have this:
食べる – ta.beru (ta is the kanji and beru is hiragana)
食べました – ta.bemashita (ta is the kanji and bemashita is hiragana)
Makes sense?
No?
It takes a while to get it. Once you memorize the hiragana, it will be easier to figure this all out.
Hiragana is also used for sentence particles, names, and Japanese words where no kanji exists.
Hiragana is purely phonetical. It carries no meaning. It is composed of 46 characters with a few variations. Each sound in the Japanese language is represented by a character in the hiragana. These include vowels, such "a", a consonant followed by a vowel such as "ka", or the "n" sound. With the exception of the "n", there are no sole consonant sounds in the hiragana. This is why the hiragana is a syllabary and not an alphabet.
Ok, enough with the orthography lesson. Why is it important to learn hiragana as a calligrapher?
Hiragana characters are basically the simplification of a specific kanji written in sosho (cursive script). The invention of the hiragana is often attributed to Kukai, a famous Buddhist monk who traveled to China in the 8th century and learned calligraphy, poetry, and Buddhism. Kukai is also known by his posthumous Buddhist name, Kobo Daishi. He was the inspiration behind the Daishi School of Calligraphy, which focuses on the monk's style of writing and the practice of the 8 basic strokes.
Since hiragana characters are basically simplified kanji, they are composed of just a few strokes, have curved lines, and rounded corners. This is a stark contrast to its sibling the katakana, which characters are basically sections of certain kanji written in kaisho (block script). Because of hiragana's delicate look in style, it was once considered a woman's style of writing. Men wrote in kaisho. However, over time and due to its abstract form, hiragana and sosho became the preferred form of calligraphy of Zen monks and artists.
The rule of thumb when learning Shodo is to practice the katakana to get good at kaisho, and to practice the hiragana to get good at gyosho and sosho.
Here are a few examples of the evolution of a kanji from kaisho to sosho and to its hiragana form.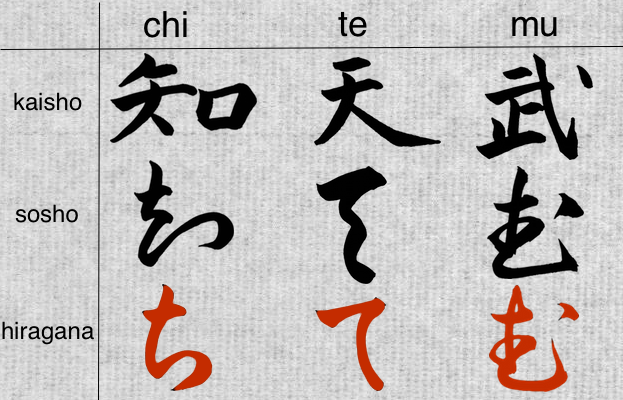 I strongly recommend practicing the hiragana as a vehicle to learn how to brush gyosho and sosho. The hiragana will teach you how to balance bold strokes with thin lines, and how to make the characters look round and fluid.
Most importantly, it will help you understand the concept of continuity.
In gyosho and sosho, continuity between strokes is imperative. Each stroke needs to be connected to each other. Even if there isn't a visible line connecting the strokes, the energy should be present. The end of one stroke should be pointing at the beginning of the next.
Kaisho is the first style of writing you learn during Shodo practice. My Learn Shodo: Introduction to Japanese Calligraphy course concentrates on learning the 8 basic strokes and the kaisho style of writing.
I have realized that it is only natural for students as they progress to get interested in the more artistic styles such as gyosho and sosho. This is why I have decided to create a new course called Learn Shodo: Advanced Techniques. In this course I will built upon the foundations of the basic course and teach the techniques used for gyosho and sosho, including how to write the hiragana.
The course is in development and it will be up for enrollment soon. You can sign up now and put your name on the list to be notified when the course opens. If interested, check out the page here.
That's it for this one, and thanks for reading.