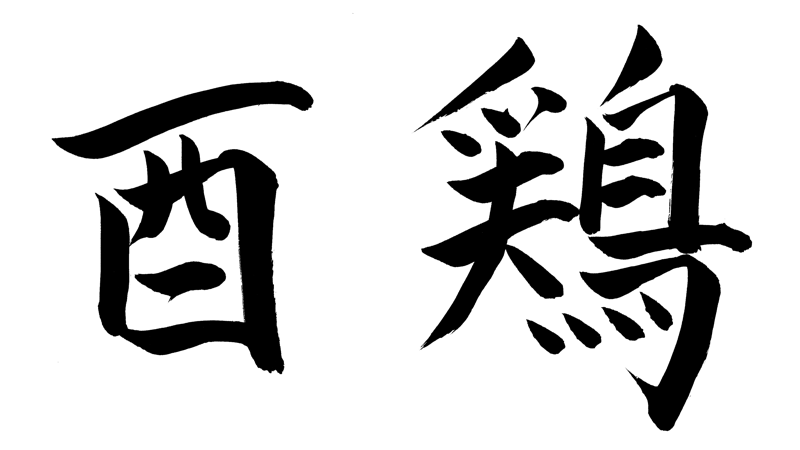 The Chinese New Year began on January 28 and this year's sign is the Rooster. I was born in 1981, also a Rooster year.
Now I'm not much of a believer in zodiacs and predictions, eastern or western versions of them. But I'm curious for sure. So I thought it would be a good idea to look at this zodiac and see what 2017 has for me.
According to China Highlights, here is what the year of the Rooster has for me:
1981 was a Gold Rooster year. Characteristics of a Gold Rooster are determined, brave, perseverant, and hardworking. 
I agree with that. However, 2017 is Fire Rooster year so the characteristics are a bit different. Fire Roosters are trustworthy and responsible.
Rooster Years Are Unlucky for Roosters!
Wait. What?
According to Chinese astrology, the year of one's birth sign is the most unlucky year in the 12-year cycle.
In a year of your sign, horoscopes for all aspects of your life will not be very good. However, you can reverse fate by attention to the God of Age "star" and warding off bad luck.
Roosters should be more careful in 2017.
Jesus. This sucks! You know 2016 was good, but it wasn't THAT good. I was really rooting for an awesome 2017.
The Rooster's Personality: Observant, Hardworking…
People born in a year of the Rooster are very observant. Hardworking, resourceful, courageous, and talented, Roosters are very confident in themselves.
I agree with that.
Roosters are always active, amusing, and popular within a crowd. Roosters are talkative, outspoken, frank, open, honest, and loyal individuals. They like to be the center of attention and always appear attractive and beautiful. Roosters are happiest when they are surrounded by others, whether at a party or just a social gathering. They enjoy the spotlight and will exhibit their charm on any occasion.
I agree with outspoken, frank, open and loyal. But I'm an introvert, so I'm not sure about being the center of attention. I'm not the happiest when surrounded by people. I'm the happiest when I'm by myself here in the the studio. Always appear attractive and beautiful? Will have to think about this.
Roosters expect others to listen to them while they speak, and can become agitated if they don't.
You bet!
Vain and boastful, Roosters like to brag about themselves and their accomplishments.
I don't know about that. Do I like to brag about myself?… Rachel will probably say yes.
People born in a year of the Rooster are typically healthy people. They are active and enjoy sports, such as hiking and swimming. Roosters don't get sick very often because they tend to fight illness well. Even when they do become ill, they feel better quickly. Roosters are a little sensitive, and they feel stressed and moody at times.
Agree. However, I'm not into competitive sports but I like running.
Roosters are hard working, multi-talented, and can deal with a variety of jobs.
Good career choices for Roosters are newsreader, sales person, restaurant owner, hairdresser, public relations officer, farmer, athlete, teacher, waiter, journalist, travel writer, dentist, surgeon, soldier, fireman, security guard, and police officer.
All seem fitting.
Roosters are loyal and they make devoted friends. They always keep their promises and are always true to their word.
I agree 100%.
Wealth in 2017 — Not Good
Oh here we go.
People born in a year of the Rooster can still, earn a significant amount, but will have to try hard." 
That's fine I'm not afraid of hard work.
So they need to urge themselves that there is no reward without input. When they work hard, they can earn a considerable amount from their career, and, at the end of the year, they can accumulate substantial wealth.
Word.
As Roosters are in their zodiac year in 2017, they are in a year filled with bad luck. Therefore, they should just do their best and let things be, without setting their sights too high.
Ok. I'm good with just letting things be.
Businessmen will have to deal with operational pressures in 2017. Their expenses will increase, so they should plan to set a budget in advance. Instead of investing all their money, they should save money. 
I like this. I actually spent a lot of money investing in the studio last year. My plan for 2017 was to save money and grow the investments of last year.
Roosters are in their zodiac year in 2017, so they will be unlucky and need to work very hard. However, there are two lucky stars related to careers, which can help them.
One star is Jiangxing, which means Roosters' in leadership will have luck. Roosters can achieve success by leading a team.
Ok, so I'm not sure which team are we talking about here. The studio is just me: an army of one. But I do help lead teams of people at school and the dojo.
Roosters are recommended to "do more and speak less" at work in 2017. They should work very hard to benefit from scant opportunities.
Go it. Work hard and keep my mouth shut. I can do that.
Health in 2017 — Watch Out
???
As it is an unlucky year for Roosters in 2017, so they will need to pay more attention to safety and health. Besides themselves, they will also need to take care of their families. When going out, they will need to watch out for steps and obey traffic rules when driving. 
Good lord! That's scary.
In 2017, Roosters might get lazy and upset, but they will need to encourage themselves. They should make some charity donations to increase their luck.
Heard.
If you have been in a relationship for years, then 2017 is a good time for you to get married. Best compatibility for a Rooster is an Ox or a Snake. Worst compatibly for a Rooster is a Rat, Rabbit, Horse or Pig.
Been married 10 years to a Rabbit.
So it looks like 2017 it's going to a tough year for me. What about you? What's your Chinese zodiac sign? Do you look up zodiacs predictions? Do you believe in them?