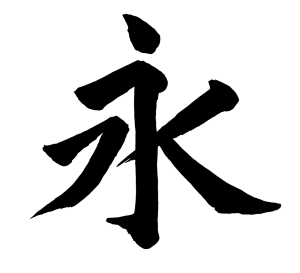 Every time I sit down to practice calligraphy or to write kanji, I always start by writing the kanji 永, EI. It is my warm up so to speak. I brush it a couple of times in newspaper in both block script and cursive styles.
The kanji of EI looks simple and elegant in its composition, however it is not an easy kanji to write. It is composed of the eight basic strokes found in all kanji. If one can master the kanji of EI, literally one could write any kanji.
The EI JI HAPPOU is the system I learned from Maki Sensei during a series of personal lessons. Each of the eight strokes of the Kanji of EI was practiced, studied, and mastered before putting together the whole kanji. Each kanji I learned to write after was picked based on one of the strokes from EI. Zen Master Omori Sogen Rotaishi wrote: "In Zen art, technique cannot be entirely disregarded, nor is it possible to rely exclusively on inspiration. Practitioners may understand Zen well, but if they have not been trained in calligraphy and painting they will not be able to produce a work of art on the first attempt."Learning and mastering the kanji of EI cannot be overlooked in the practice of Shodo.
In the martial arts we have what we called TAI SABAKI or body movement. Body movement is the foundation of any technique. In cooking we have Mise en Place, or everything in its place. The state of the mind of the cook is reflected on his Mise en Place. The skills of a cook is measured by how well his Mise en Place is prepared. In Shodo we have EI, the foundation to learning how to write any character in any form or style.
EI means forever and is part of the two kanji combination word EIKYU (永久) which means eternity.
One of the key elements of producing quality pieces of calligraphy artwork is understanding composition. Like any other art form, Shodo has some basic rules of composition and of writing kanji characters.
There are two basic rules to follow and remember by heart when writing kanji. First, when writing the sequence and direction of any kanji always go from top to bottom, and from left to right. This apply to Kaisho (楷書block script), Gyosho (行書 semi-cursive script), and Sosho (草書 cursive script) styles. Second, learn and master the proportions of each kanji. When writing words with more than one kanji, ideally, all kanji should take the same amount of space in the paper. Of course, when writing cursive style with more of an artistic approach, this rule can be somewhat bent to create an artistic feel for the kanji.
All kanji have a stroke order and count. In order to write any kanji to the right proportions and composition, the stroke order should be followed. There are eight basic strokes found in all kanji. This eight strokes can be practiced by writing the kanji 永 (EI).
The best way to learn composition and proportion when writing kanji, one should practice using a gridded paper like the one on the image above. This way, one is forced to stay within the grid when composing the kanji. And when writing more than one kanji, one learns how to balance both characters together.
This is the most basic and hardest stage of Shodo learning process. Many Shodo practitioners get fixed in the artistic cursive way of writing and will not spend enough time learning how to write the block script. Kaisho is the foundation for Sosho. Sosho written without the proper understanding of Kaisho is nothing but mere swirled lines on paper.