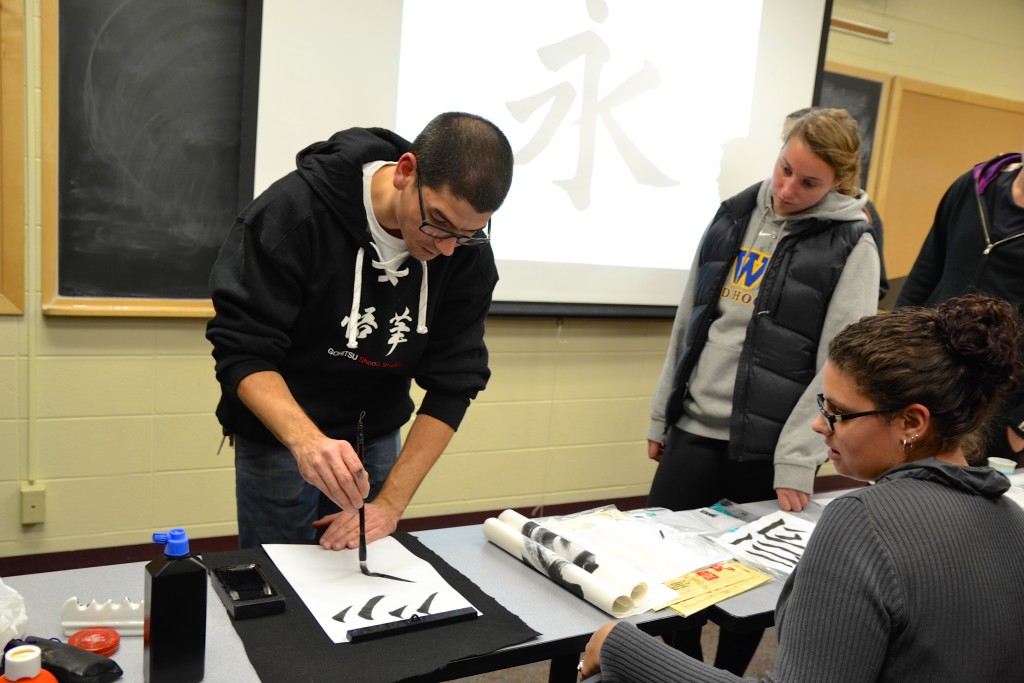 I taught my first Shodo workshop in October of 2014. It was a great event. I reached my attendance goal and met a group of wonderful individuals, including a woman who traveled from Argentina to attend the workshop (shout out to Nora Nieto!).
I taught a second workshop a few months after. It was also a great success, similar to the first one.
On both occasions I received more emails from people who couldn't attend the workshops than from people who could.
The number one reason was travel.
I was lucky I found a Shodo teacher that lived within driving distance from me (she now lives in Florida and I haven't seen her in a few years). Shodo practice is still little known, specially in the west. There are a few books (which I own most of them), some YouTube videos, and a few websites around, but nothing of large scale.
Nihon Shuji, one of the most well known Japanese Calligraphy Associations, is represented in many countries. Teachers affiliated with Nihon Shuji can receive instructional materials and send their students' work to Japan for correction and grading. Very few in the US and other countries are affiliated with Nihon Shuji. I've personally never met one. There was one guy in New York (or so the website said) but the studio is no longer opened.
A lot of folks who contact me about learning Shodo tell me they are self-taught. Of course they are. It is the only way to learn for a lot of people. I was one of them. I self-taught myself Shodo for 10 years. However, it wasn't until I found a teacher that I truly understood the fundamentals, and my calligraphy took a huge leap forward.
I continue to correspond with many people going through this situation. They wanted to attend my workshops, but they simply could not travel.
Some one asked me: Do you have an online course?
I knew creating an online course will solve this problem for many people interested in learning Shodo. But I was afraid of it. I was overwhelmed by the scope and amount of work required to pull it off. I kept ignoring it.
One day, I began to create a mini-course for those students who attended the workshops. Something I would deliver via email.
As I set the camera and started brushing in front of it, I kept telling myself: what are you doing? You need to make an Intro to Japanese Calligraphy Online Course.
Nobody was really interested in this mini-course thing I was creating, so I axed it and began working on creating Intro to Japanese Calligraphy. 
It took me about 2 months to create all the content for it. I worked tirelessly everyday well into the wee hours of the night.
I did everything myself. The preparation. The shoot. The edit. The online set-up. The written transcripts. The graphics. Everything.
I did all of this because I believed, and still do, that this is the best opportunity for anyone to learn Shodo. I also wanted to create a course that wasn't going to be all about techniques, but also to create a framework for students to take on Shodo as lifelong practice.
I believe Shodo can be a path of self actualization; a way to express yourself while creating beautiful yet meaningful characters.
With this Online Course I am providing this opportunity to every one in the world, not just to people within driving distance to the East Coast of the US.
Yesterday, I opened enrollment again for Intro to Japanese Calligraphy. It is an exciting time as I see new students joining. I can't wait to see their work and get to know them. 
I was lonely when I was learning Shodo. It was just me and my Sensei at her kitchen table. I had no one to share the learning experience. My students can now see each other's work online and comment on it.
There is a community being built and that's my biggest goal with teaching online. I hope one day I get to meet them all in person. Of course that would mean to travel the world. 
Thank you for reading, it means a lot to me.