About 10% of the population is left handed. When I teach Shodo during my workshops I always ask first: "Is anyone left handed?", before starting to explain the rules of writing or how to brush the basic strokes.
They look at me a bit concerned. "Uh oh, is it going to be hard for me to do this because I'm left handed?" The answer is, unfortunately, yes. But not because you are left handed.
Let me explain.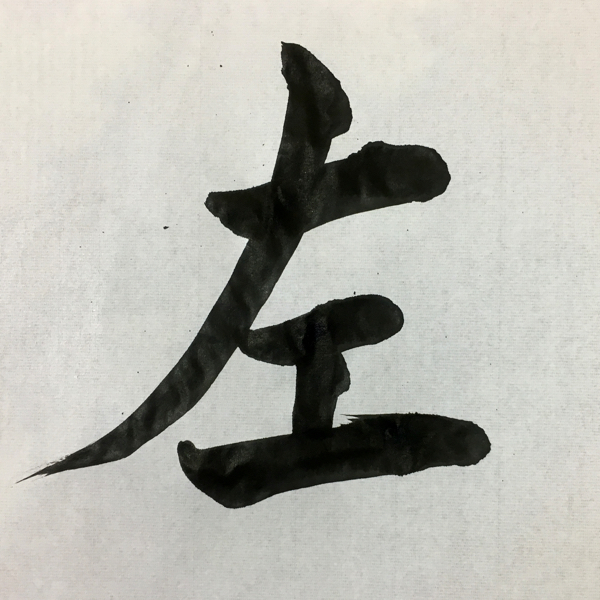 The kanji character for left in Japanese is 左 (hidari), and it means "left hand to work". The kanji is also used for several words in Japanese that can be considered derogatory. The word 左遷 sasen means demotion, but its literal meaning is "move to the left". The word 左巻き hidarimaki means eccentric or abnormal, but its literal meaning is "counting to the left or counterclockwise". It is of no surprise that in a culture where the word "left" is used to connote such derogatory perceptions of the left, that many people in Japan were forced to learn how to use their right hand.
However, the bias against left handers is worldwide and not unique to Japanese or any other culture.
For centuries there has always been a stigma attached to left handers. Writing with the left hand was considered wrong, and left handed children were forced to learn how to write with their right hands. This was the custom in Japan as well until the last 25 years or so. We live in a world catered to right handed people. Many things we use such as scissors, computer mouses, phones and keyboards are designed for right handers. Our society had believed that there was something "wrong" with left handed folks. For example, we use the phrase "right-hand man" for someone who is our go to person. Meanwhile, if you skateboard with your feet facing the left you are using the "goofy" stance.
Fortunately, our global society has, for the most part, realized that being left handed is not a bad thing. There is nothing wrong with left handed folks. Research has found that it can actually be quite traumatic for a kid to be forced to write with their non-dominant hand. Today, Japan is more acceptive of left handers as well. They are not "converted" to be right handers anymore and techniques have been developed to help children learn how to write kanji with their left hand.
However, this does not change the fact that kanji and Shodo writing rules are designed for right handers.
Kanji are brushed from top to bottom and left to right. The horizontal line is brushed from left to right. If you hold the brush with your left hand, you will push the line instead of pulling the line like a right hander would do. This is very important to understand and not to change the rule if you are left handed. If you change the stroke's direction, the kanji will look reversed; like you're looking at it through a mirror.
To learn how to push the line instead of pulling is difficult but not impossible. It's all a matter of getting used to it and understand the methodology and technique. This is of course more difficult when brushing kanji in kaisho with a small brush while sitting at the table. Kaisho writing must be precise and stroke order must be followed rigidly. However, once you move to gyosho writing and Zen calligraphy, being left handed will be less of an issue. For instance, Zen calligraphy is not focused on the correctness of the kanji, but the feel and energy of the calligraphy.
If you are practicing Shodo, and are left handed, know that things may be a bit difficult and there is a learning curve to understand how to brush the kanji correctly while holding the brush with the left hand. However, you can totally do it and there is really no distinction at all.
Embrace who you are and know that you don't have to change or be "converted" to practice Shodo.