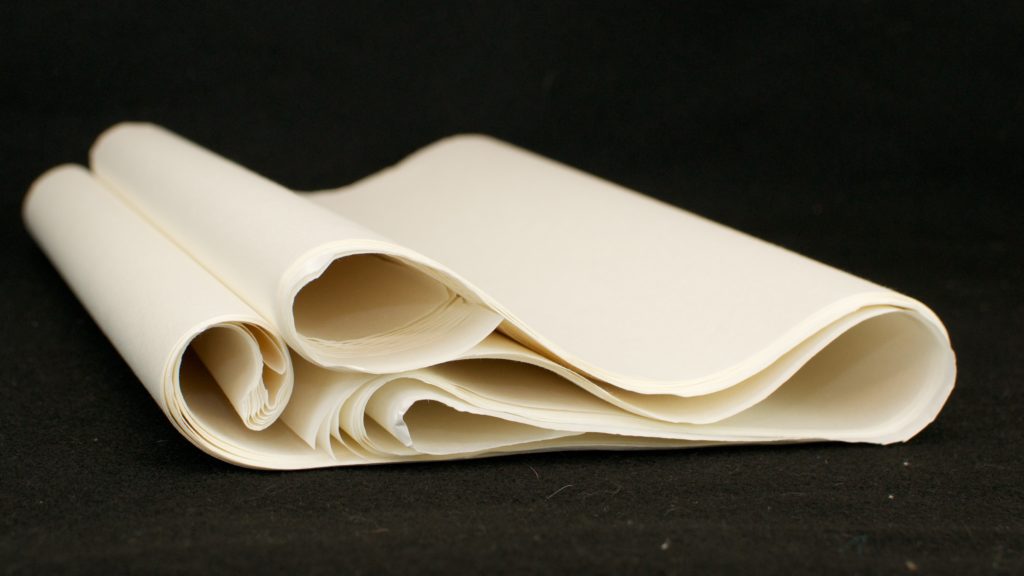 I'm all about technology and eliminating paper trails as much I can. I hate getting bills in the mail, or when my boss prints a copy of an email to hand it to me. And I can't tell you when was the last time I read the newspaper. However, I have thousands of newspaper sheets all over my studio, and you wouldn't believe how hard it is to find old newspapers these days. When people ask me, what's the best calligraphy paper to practice? I always answer newspaper. If you can find old (free) newspaper, start collecting them for your practice session. Japanese "rice" paper is not cheap, and it can get expensive always using Japanese or Chinese paper for that matter.
Speaking of "rice" paper, according to Lauren (my neighbor and owner of Paper Connection, one of the largest Asian paper distributor in the US) the term rice paper has been a misnomer for centuries.
Japanese paper is called washi (和紙), and it is not made of rice. It is made of tree-free, bast fibers, such as kōzo (Japanese paper mulberry bush).
There are many types of Japanese paper used in Shodo practice. While I cover these in a bit more detail in Lesson 3 of Shodo Essentials, I figure I would give you a quick rundown in case you were looking for some Japanese (let's not call it rice moving forward, shall we?) paper for practice.
Size, texture, color, and weight will all depend based on the type of paper and the level of quality. The most common paper used in calligraphy is called Hanshi (半紙). The word hanshi literally means "half paper" and it refers to calligraphy paper sized 9.5″x 13″ (333 x 242). Sheets of Hanshi is generally thin with a smooth and a rough side. To choose whether to brush on the smooth or the rough side depends on the artist's skill, proficiency and desired wash effect, however, the smooth side it's often preferred.
Another common paper used in calligraphy is often labeled as kōzo (楮). Kōzo is a paper mulberry fiber used to make many different types of paper. Paper made of kōzo can be purchased in sheets or rolls. Sometimes sheets of kōzo is thicker and more absorbent.
Xuan (SENSHI 宣紙, in Japanese) is a Chinese "rice" paper. Xuan paper is available in many different sizes although more commonly in 13.5" x 54" sheets (scroll size). Xuan is quite absorbent, therefore can have a strong dry brush effect and gives the calligraphy a dry ink look. There are many different versions of this paper and Xuan can sometimes be a generic term to classify it. One of my favorite papers is called Kihōsen- Kana; a Japanese hand made Xuan-type paper. The Kihōsen-Kana paper is light and not super absorbent, giving the ink room to flow providing the calligraphy the washed ink effect without appearing too dry.
You might be tempted to use regular copy paper, but I would advise not to. Copy paper is too smooth and not very absorbent; it will make the ink bleed and give you the wrong feeling with the brush. If you can't find newspapers, you can buy a newsprint notebook or a box of wrapping paper and cut it to size.
The tools of Shodo are known as the four basic treasures. They are the brush, the ink, the ink stone, and the paper. While the right paper is crucial for a beautiful calligraphy piece, don't get caught up on it in everyday practice. It can be extremely stressful to brush on an expensive sheet of paper which can cause you to "mess" up the calligraphy. Begin with inexpensive sheets of hanshi to get the feeling for it, and gradually move on to more fine sheets of Japanese paper. But for everyday practice? Newspaper all day long.
Oh, and one more thing. You will probably go through thousands of practice sheets that will be trash. Be friendly to the Earth and keep a recycling bin next to you. 🙂
---
If you're looking for some Shodo paper but are not quite sure which one to get, I have put together a list of suggested Shodo supplies over on my website that I share with students of Shodo Essentials.