This is a small world.
Earlier this summer, one Sunday morning when I was getting ready to head to the beach with the family, a Japanese guy came over our driveway to introduce himself. I had no idea who he was. He is a real nice guy and turned out to be our next door neighbor! We've moved less than a year ago and now I knew why I haven't seen this guy before– he spends most of his time in Japan.  He quickly noticed a wood calligraphy I have hanging on my porch. He asked where we got this and when I told him I actually brushed that myself he was surprised, maybe a bit shocked I think.
Long story short, I got to meet him better throughout the summer and invited him to come downstairs and check out the studio. He brought his wife, Lauren, who happened to own Paper Connection International, a wholesale company that specializes in eastern paper. To my surprise, Paper Connection is one of the leading eastern paper companies in the country. When Aiko's in Chicago closed, Lauren took over their paper inventory. She also spends a great length of time in Japan doing business.
So here I am, practicing Shodō in my little studio in my house and little I knew that my next door neighbor runs one of the leading companies specializing in eastern handmade paper.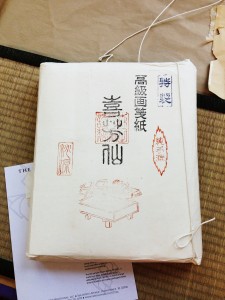 It wasn't  long after that when I visited the warehouse of Paper Connection in Providence. There, Lauren showed me one of her latest acquisition: a package containing handmade rice paper called Kihosen-Kana from the Kōchi Prefecture of Shikoku. The coolest thing about this paper was the packaging which was done in the traditional style of the Edo Period.
I took home a sheet of this paper to give it a try. The paper is measured at 13″ wide by 52″ long– perfect size for scroll mounting. For a few days I struggled with deciding what to write on this special paper. I felt that whatever it was, it needed to be good– I couldn't brush something sloppy on such quality paper. I made up my mind one night and decided to brush the Zen phrase HEIJŌ SHIN KOREDŌ (平常心是道) — the ordinary mind is the Way.
I constantly say that Shodō is the expression of the mind– your KI on paper. This calligraphy reflects it. I was sick when I brushed it. I've had a few days of fever and a cold. Although I think the strokes are strong, the calligraphy shows an unbalanced mind.
However, the paper was fantastic– the best I've ever used. The ink flowed beautifully making the strokes look strong but elegant.
Real handmade rice paper is next to impossible to find here in the US– what you get most of the time is machine made. While the quality of some of the machine made papers are actually pretty good, it doesn't compare once you get your hands on handmade paper.
I, for sure will be calling Lauren soon to get my hands on more of this Kihosen-Kana handmade rice paper.