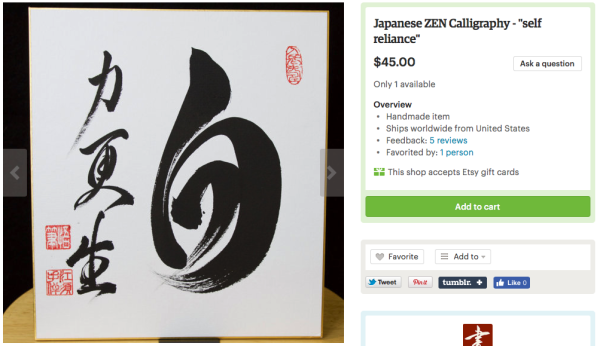 I remember the first calligraphy I ever sold. It was for a friend at the dojo I trained at the time. I brushed a scroll of Ichi Go Ichi E for the dojo's Kamiza (front wall) and I did a bunch of other works and gifted them to other students. I hadn't met Maki Sensei yet. My calligraphy was raw; it had good energy, but characters were poorly composed and there was a lot of insecurities in my strokes. None of it kept me from brushing and giving my calligraphy away, however.
One day I wanted to purchase a large calligraphy brush that was about $100. I said to myself "maybe if I sell a few calligraphies, I can use that money to buy the brush". And so I did. I put together a binder with calligraphy samples with words and phrases I was comfortable brushing. I gave the portfolio to anyone who was interested (this was pre-internet days) and shortly after I was at home brushing my very first commissioned work.
I don't remember how much I sold the calligraphies at the time. I had a goal of raising just enough money to buy the big brush. Those who asked me to brush something for them knew what my goal was, so they were happy to help me get this brush.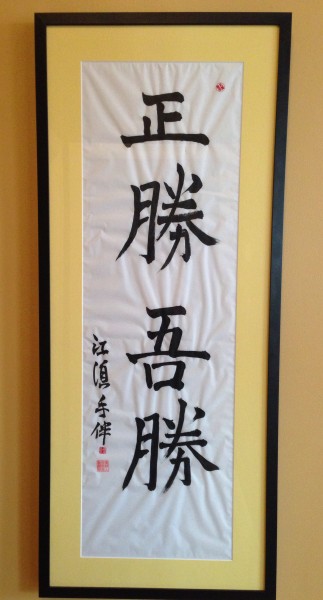 One of the calligraphies I sold was Morihei Ueshiba's (founder of Aikido) motto: Masakatsu Agatsu "true victory is victory over oneself" for a friend of mine. She still has the calligraphy framed and displayed in her dining room, and I cringed every time I see it. It was an early work of mine and I can see how flawed it is. She likes it, though, and even more now because she knows is a rare piece.
The other day I listened to a Podcast interview with Jim Lee, co-publisher of DC Comics and best selling comic book artist. He was laughing at the fact that a lot of his earlier sketches he did for people at conventions back in the 90's were turning up online. "Old sketches will come back to haunt you," he said. That's how I feel about some of my earlier work.
Another calligraphy I remember brushing was for a gentleman at the dojo who asked me to brush something I don't quite remember. He told me he had it framed and hung in his office, which I was happy to hear. Then, sometime later, he came to me and said that he had the calligraphy looked at by some Iaido teacher who told him the calligraphy had a lot of shortcomings. Maybe he said it wasn't good, or that he could tell it was brushed by some amateur. And it was. I felt like someone had called me up on my bullshit, and that my calligraphy wasn't good enough to charge money for it.
I took that to heart. It wasn't until another few years, and a bunch of personal lessons under Maki Sensei, that I felt comfortable to start selling my calligraphy again. This time around, I had a website and commissions came via email. My very first commission was from my uncle, who ordered a calligraphy for his youngest son. This one doesn't haunt me as much though. I actually still like it and while I've gotten better with the brush, I think is a good calligraphy.
If you've been brushing for a few short years and just recently finished my online course, chances are you are not ready to start selling your work. This doesn't mean you shouldn't, however. I believe that selling my work is the single most important thing I do to make my calligraphy better. There comes a time when brushing just for practice, or for yourself, is not enough and you will eventually reach a plateau and stop practicing altogether. But, when you have to brush something for someone else, there is a level of pressure and commitment that helps push your skills forward.
Before you embark on this journey of selling your work, realize that the calligraphy you are brushing today will look like crap compared to what you will be brushing in the future. You have to be okay with having those calligraphies out in the world and ready to haunt you in the future. You have to be ready to hear someone call you on it and tell you that your calligraphy is really not that good. Don't let this hold you back, instead let it be what motivates you to keep practicing and get better.