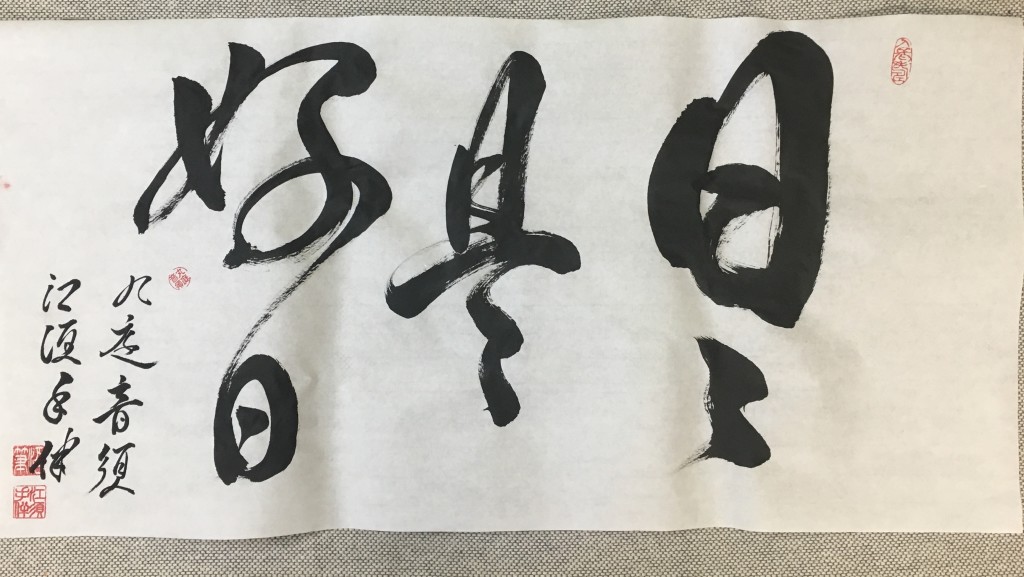 I had a pretty shitty day on Thursday. The kind of day where I come home and spent an hour or two venting to Rachel. I lost my sleep over Thursday.
I had a fairly combative confrontation with a culinary student of mine. I kept the situation under control, thanks to 20 years of Aikido and Zen training. I was firm with this kid, maintained complete aware of the situation and my surroundings. I was able to make my point, hear him out, and diffuse the tension.
I was pissed off, though. And I had hard time hiding it.
Two days later I'm still thinking about this situation. I'm still talking about it. Heck, I'm even sharing it with you!
What does this have to do with Shodo, Zen, or Martial Arts?
Well, I just re-launched a t-shirt design with my calligraphy of Everyday is a Good Day. The t-shirt went on sale the day after I had a bad day.
So, not everyday is a good day, huh?
This phrase comes from an old Koan (Zen story) of the Blue Cliff Records (Hekiganroku).
The story goes:
Unmon said: "I do not ask you about fifteen days ago. But what about fifteen days hence? Come, say a word about this!" Since none of the monks answered, he answered for them: "Every day is a good day."
The answer to a Zen Koan is not found in the intellectual mind, but in the mind that transcends the duality of existence: life and death. We are not separated from each other. We are one with all things; life and death are the same thing. Of course, this easier said than done. We always try to find explanations to everything using our intellect.
In this case, when Unmon refers to fifteen days ago he was talking about enlightenment. According to the lunar calendar, the full moon appears 15 days after the new moon (this why Chinese New Year's celebrations lasts 15 days). The full moon represents enlightenment. Unmon was asking the monks to talk to him not about the moment of enlightenment, but what about after such experience. The monks had no answer. This is because they thought the goal was to reach enlightenment, while Unmon didn't care about it. He wanted to know what happens after realization.
To which he replied: "Everyday is a Good Day".
To think that "good" is the opposite of "bad" is to think that they are two separate things when they're not. Every day become good days after you realize that only today exists. There is only this moment in time.
I had a bad day, because I had emotions (anger, frustration) associated with the events of that day. But the day was still good. The problem was not the day, it was how I perceived it. Today is Saturday and Thursday does not exists anymore.
A lot of practice and training is needed to grasp this concept and materialize it. Otherwise we are simply discussing it intellectually.
Wake up every morning and ask yourself: What kind of day is today?