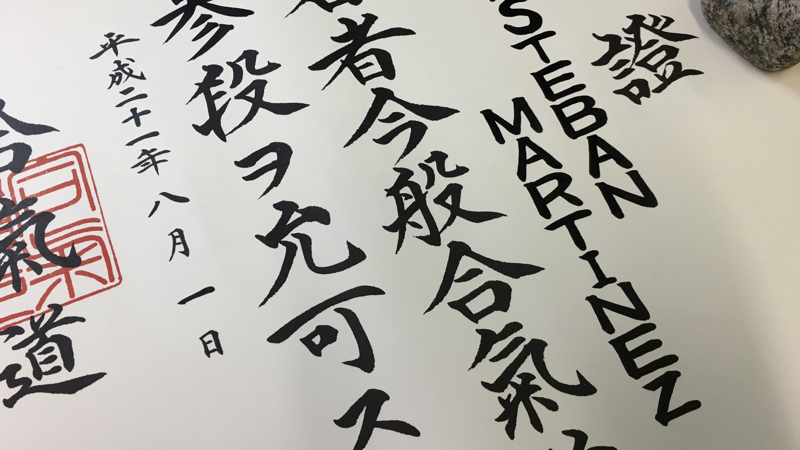 Last week I wrote a short post about the meaning behind the Zen koan MUI NO SHINNIN or the "true person of no rank".
On that post I gave my understanding, from a Zen point of view, of what it means to be a "true person of no rank".
This week I want to discuss the subject of ranking from a literal point of view.
Do you need rank in Shodo?
The answer is both yes and no.
Let me explain how ranking works in Shodo.
There are numerous Shodo organizations in Japan. While operating individually, they all pretty much follow the same system. If you study under a teacher, who is certified through an organization, she or he would probably hold the rank of Shihan. The title Shihan simply means someone passed a test and is certified to teach Shodo of any level.
Most students don't see their teacher regularly, specially if you are outside of Japan. However, you mail your work to your teacher regularly for correction and feedback. Once you're ready to start testing for ranks, you send your work to your teacher, who then forwards it to the organization. The organization has a testing committee who evaluates your work and awards the ranks.
The ranking system is similar to most Japanese martial arts. Lower levels are known as "kyu" ranks and may start from 7 or 5 and progress until you reach 1st kyu. After 1st kyu the student then moves to "dan" ranks. Dan ranks are the equivalent of black belts in martial arts. How many dan ranks you can hold depends on each organization. As with any organization, ranks and affiliations are subject to membership and testing fees.
It's a fairly complicated system and can take quite a while to achieve high ranks and become a certified teacher or Shihan.
It's important to note is that there is not a national standardized test for any Shodo rank or Shihan certification. Each organization develops their own set of standards, requirements, and tests. Again, very similar to the system followed by many martial arts.
So, why is it important to hold rank in Shodo?
From a student's perspective, you may want to know if you're teacher is certified. Like I mentioned above, achieving high rank and teaching certification is a long process. Someone who holds the title of Shihan in Shodo means they've been doing it for a very long time, and are committed to practicing and teaching the art. You will probably learn Shodo in a very standardized way— mastering the fundamentals first and then progressing to more advanced techniques.
However, ranks and certifications don't guarantee someone's calligraphy is good or make them a competent teacher.
I don't hold any rank in Shodo. I'm not a certified Shihan by any Shodo organization either.
The reason is because my teacher never registered me with any Shodo organization and I never submitted any of my work for correction or grading. I never really asked her about it. I was happy enough with her teachings and her feedback was enough for me.
I saw my teacher regularly, every week in fact. We would spend hours doing Shodo on her kitchen table. I don't know whether or not she was certified or if she held any rank in Shodo either. I didn't care. I liked her. Her Shodo was beautiful and I wanted to learn what she knew. That was enough for me.
I like to approach Shodo practice from a Zen and martial arts point of view. Zen calligraphy puts zero importance in ranks. Heck, they don't even put any value in technical beauty or composition. The goal of Zen calligraphy is to express awakening; it is the artistic expression of Ki energy.
At the same time, I strongly believe in teaching and learning the fundamentals such as the 8 basic strokes. That's what my Intro to Japanese Calligraphy Course is all about— fundamentals.
In the end, Shodo is a very personal practice, a form of self expression, a vehicle to find your true self. There is more to that than learning techniques and passing exams.
Your skills and abilities will always be measured not by a certificate but by your brushworks on paper.