You can comission custom Japanese calligraphy through the studio. Although I specialize in martial arts and Zen artwork, I will work with you to create the perfect piece of Japanese calligraphy for you.
For custom calligraphy the following paper formats are offered:
SHIKISHI BOARDS
These boards are made with high quality Gasen paper laminated to a hard board backing with a strip of gold around the edge. They are sturdy and the paper won't appear wrinkled. They are excellent for framing or hanging with traditional frames or shikishi specific ones.
Shikishi boards are offered in the following sizes and prices.
Sizes:
9" x 10.5"
12" x 16"
---
HANDMADE PAPER SCROLL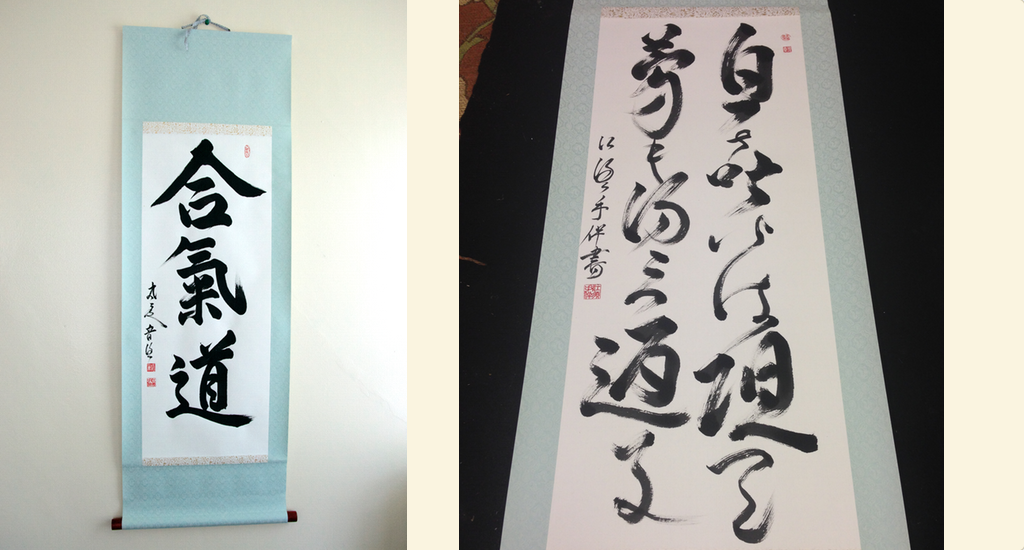 This is a top quality handmade paper scroll. The calligraphy is brushed onto the paper already mounted on the scroll.
These scrolls come in two sizes:
16" x 48"
17" x 60"
Pricing for scrolls is subject to the length and difficulty of the calligraphy. Since the calligraphy is brushed right into the scroll, there may be multiple attempts to it to get the best possible effect.
To find out price for scroll fill out the form below to request a quote.
---
HANDMADE JAPANESE PAPER- KIHOSEN-KANA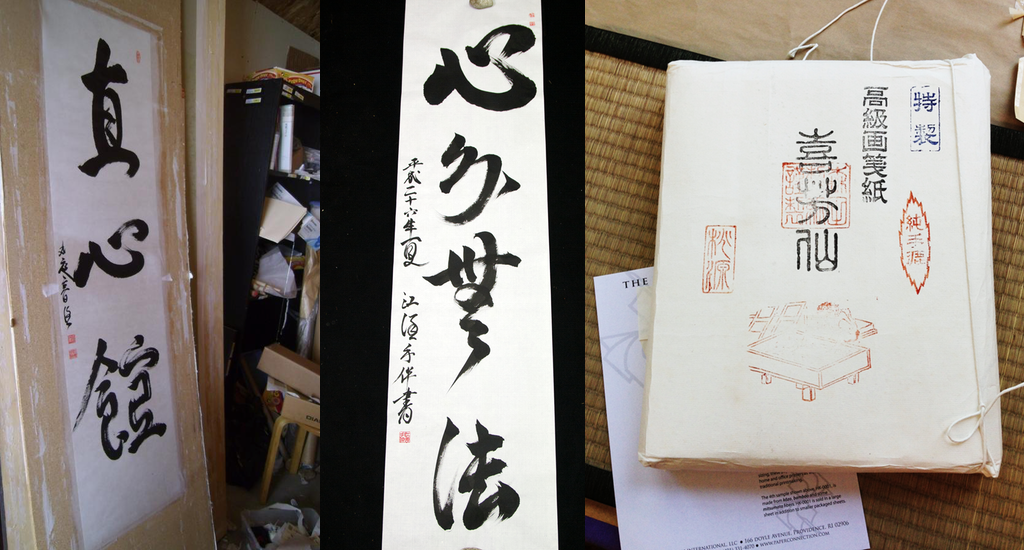 This is handmade rice paper called Kihosen-Kana from the Kōchi Prefecture of Shikoku, Japan.
A sheet of this paper is measured at 13″ wide by 52" long. The length can be cut down if your calligraphy requires shorter length. Order calligraphy in this paper if you appreciate the artisanal qualities of hand made paper. Calligraphy on this paper will require framing or mounting on scroll. For the moment, I do not offer such service.
Pricing for calligraphy on Kihonsen-Kana paper is based on the size, and difficulty of the calligraphy. Please fill out the form below to request a quote.
---
DIGITAL FORMAT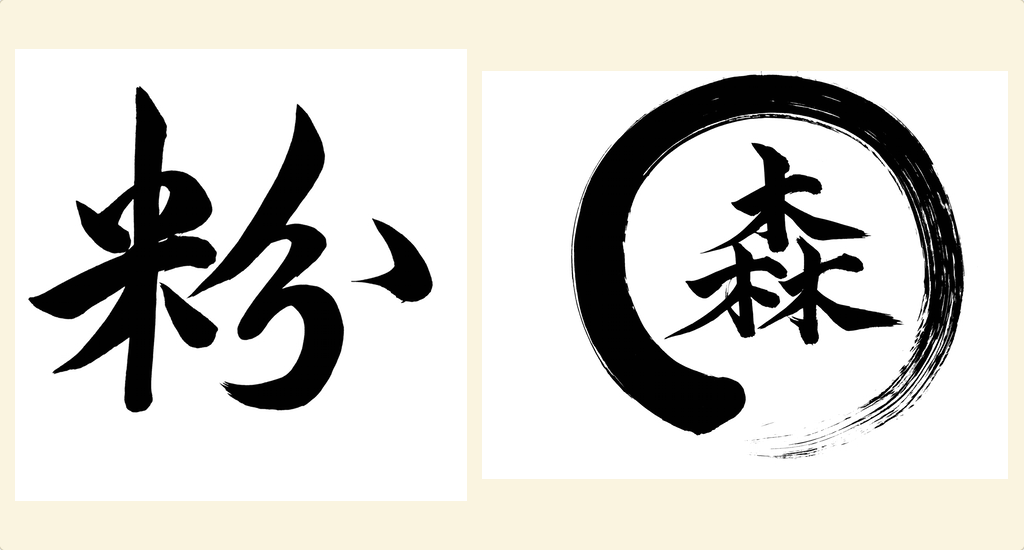 Calligraphy in digital format is offered for those who want the calligraphy for logos, tattoos, or graphic designs. The calligraphy is brushed then scanned and delivered through a downloadable link. The files are delivered in PNG format at 300 dpi. This is so the calligraphy can be edited using standard image editing softwares. Other file formats are offered if desired. If the original copy is desired along with the digital one, additional cost may apply.
Here are some samples of my calligraphy used in digital logos.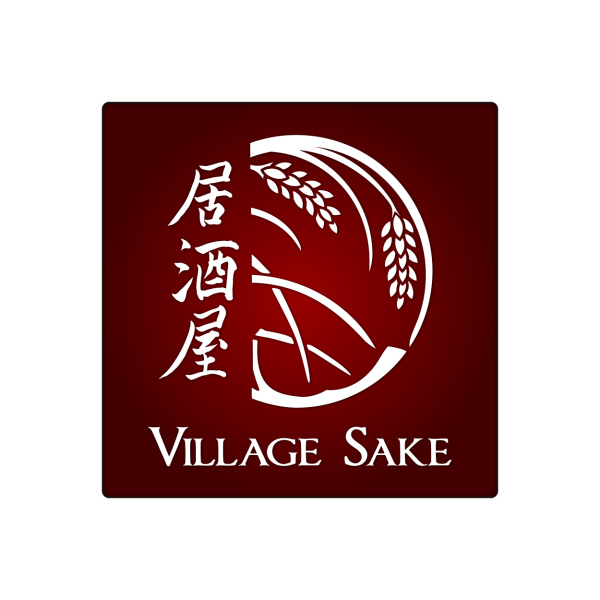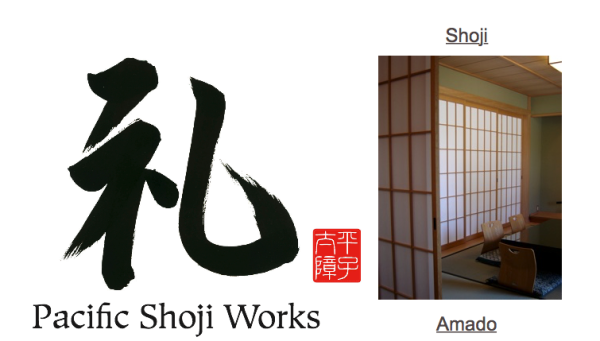 ---
PAYMENT
Payment in full is expected at the time of ordering. If cost of the comission is higher than $500, then 50% of payment is expected at the time of ordering, and the other 50% at the time of delivery. All major credit cards are accepted. You can also submit payment via PayPal if you wish to do so. Personal checks are not accepted.
SHIPPING AND HANDLING
Calligraphy is shipped in the US and internationally. For US shipping, UPS Ground or USPS Priority Mail is used. For international shipping, USPS Priority International is used.
Shipping and handling costs are calculated based on size and weight of the package, materials used for packaging, and travel distance. Gohitsu Shodo Studio is located on the East Coast of the United States.
If you have any further questions, or are interested in having your calligraphy in other format besides what's describe above, do not hesistate to email me here.