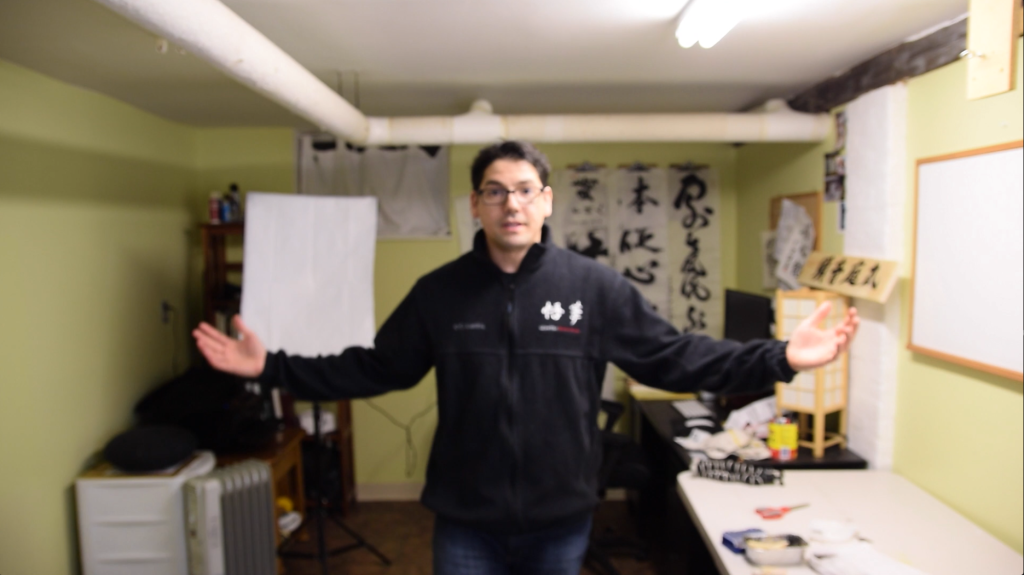 Spaces can carry energy. A lot of times this energy is needed to nurture creativity. Writers have a special place to write. Some have a desk tucked away in a corner, others retire to a cafe. In the mornings I do my writing sitting on a rocking chair my mom gave me for my birthday. There's a ton of distraction, but it is the space where I do my best writing.
When I began Shodo lessons I sat on Maki Sensei's kitchen table. By the time I arrived, brushes were in the holder, ink was poured, and sheets of newspapers were stacked in a pile. When we were done, we cleaned everything in the kitchen sink and put it all away. Every Tuesday afternoon she created a space for learning and practicing Shodo.
In 2007 I moved to a two bedroom condo with Rachel. We had a spare smaller second bedroom. While I used that room for my calligraphy practice, it felt more like an office than a studio. The room was carpeted for one and you can probably imagine how many sumi ink spills I had. A lot of times I found myself brushing in the dining room table. It was more comfortable there. But when Jasper was born in 2010, I had to give up the office. Everything that was in that little bedroom was replaced with a crib, a dresser, toys, and tons of baby clothes.
A small plastic tool box stored my brushes and other materials. Every time I wanted to practice, I took it all out, cleaned it, and put it all away. It was kind of a pain; not having a dedicated space to practice. A lot of times I opted not to practice Shodo at all. Not only it was obtrusive to have my dining room table full of brushes, papers, and ink splashes everywhere, but it was quite a hassle to have to set everything up and break it down. This is what prevented me from brushing more in the past. I was lazy, I know, I admit it. Lots of times I said screw it and spent the time watching TV instead. Not productive.
I know this is the situation for many Shodo students. I've been there. This is why I wanted to tell you how important it is to have a dedicated space for practice.
It is the same as sitting in Zen meditation. Many students of Zen can sit for longer periods of time when at the Zendo or temple. The space there is prepared for sitting. The cushions are in place. The sound is quite. The smell of incense. There is the sound of the bells and wood claps. If they try to sit at home, sometimes they can't because sitting in the middle of the living room doesn't feel the same. It messes with their minds.
In 2012 we outgrew our 900 sq. feet condo and moved to a house. I had one simple requirement; I wanted a space dedicated to Shodo.
I remember when I saw this house for this first time. There was a room in the basement full of wood scraps, workbenches, saw dust, and boxes everywhere. The minute I walked in I knew what that room was going to be. Shortly after we moved in, I dismantled the workbenches, patched and painted the walls, as well as cleaned the floors and ceilings. For the first time in almost 10 years since I began Shodo practice I had a studio; a dedicated place for practice. Since then, I've brushed some of my best work. I brush more, a lot more, than I ever did. I make more videos, I work more on commissions. I simply do more because every time I walk into this room I feel the energy to create and practice.
The space is still a work in progress. About 2 years ago I put tiles on the floor. It was just this week that I took down some peg boards left over from the old workshop and finished painting the main wall. It's been a slow process but I'm ok with that. Your practice space is a living area; always changing and evolving with you.
I encourage you to make a dedicated space for your practice. You don't have to build a studio in your basement. All you need is a table somewhere where you can have your all your tools ready to go at all times. A place that's only use for your practice. Your space will feed from your creative energy. You'll notice that every time you go into your space you will enter "the zone" where you can be creative, and productive.
Now that I have built a Shodo space, a bigger goal of mine, and I realize this is pretty ambitious, is to create a Studio where I can share the space with others– a place where I can run Shodo workshops and classes and students can also absorb the energy of the space. And, of course, this will be adjacent to a dojo.
Someday…