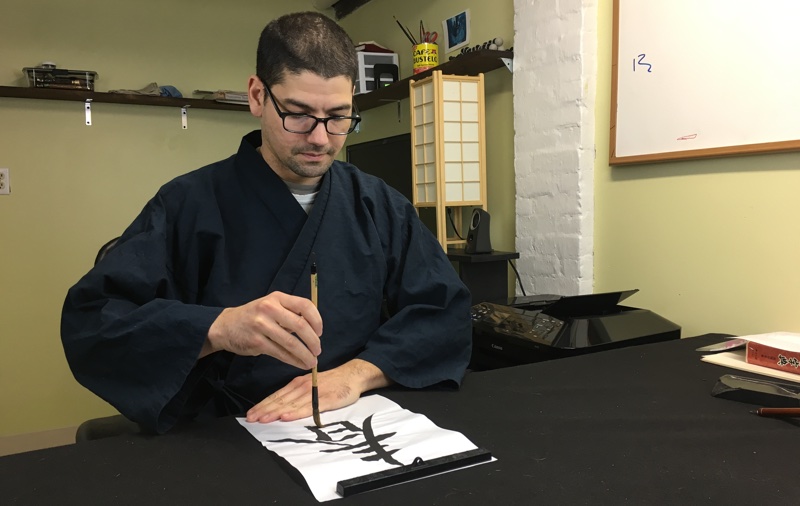 Every 

Friday

 evening before my Aikido class we sit in Zazen for 20 minutes.
If all students in attendance are experienced and know how to sit in meditation, we ring the bells right at 7:30pm and begin the sit. If a new student joins us, though, I spend 5 or 10 minutes adjusting his/her posture before we begin. When this happens, we sit for less time as I try to start Aikido class no later than 8:00pm. However, I explained the class that it is better to sit with a correct posture for 10 minutes than with an incorrect one for 20 minutes. The time we spend adjusting and fixing our posture is just as important as the time we spend meditating.
I'm currently updating my first online course, Intro to Japanese Calligraphy, which will now be known as Shodo Essentials. Lesson 5 is about posture and form. In this updated version I'm digging a little deeper into this subject because I think many students overlook the importance of a good posture when sitting down for Shodo practice.
Posture stabilizes the mind. Interestingly, the posture for Zazen, parallels the one for Shodo practice.
In Zazen we sit on a cushion, cross-legged. We keep our back straight but relaxed as we let our bellies hang. Hands are placed in front of the belly. Chin is leveled with eyes opened but not focusing on a single spot—instead we are aware of our surroundings. This posture is the tool we have to have a meaningful mediation experience. Same principle applies to Shodo practice.
While traditionally Shodo is practiced while sitting in seiza (a formal Japanese way of sitting on the floor with legs folded under one's knees) most people find sitting on a chair at a table or desk to be the most comfortable position. Sitting in seiza requires practice and can feel uncomfortable at first. However, we can achieve the same results if we sit properly at the table.
Table must be leveled with your abdomen or hara. This is important so that you can look at the paper from above not from an angle and to have the right height and extension of the arm when holding the brush. If the table is too high, place a cushion or two on the chair to get the proper height. Having the table at the correct height allows the back to be straight and relaxed maintaining the spine's natural curve. You want to minimize strain in the lower back and shoulders. This will allow you to practice for long periods of time without experiencing fatigue.
Drop shoulders, and keep chest relaxed. The point here is to keep your upper body without tension. Chin is drawn, and eyes are focused on the paper. Do not lean over or backwards as this can be distracting and will break your focus and concentration.
Learning to maintain a proper posture is just as important as learning how to brush the 8 basic strokes. A good strong posture will produce strong vibrant brush strokes. In the same way, a weak posture will produce sloppy brush strokes. If you practice your lines with proper posture they will be full of energy and vitality; even if they are not done correctly.
This may seem like a simple practice but it takes time to master. The most important thing is not too get lazy and always make an effort to keep your posture. Understand the difference between calligraphy brushed with proper posture and breathing and those without.