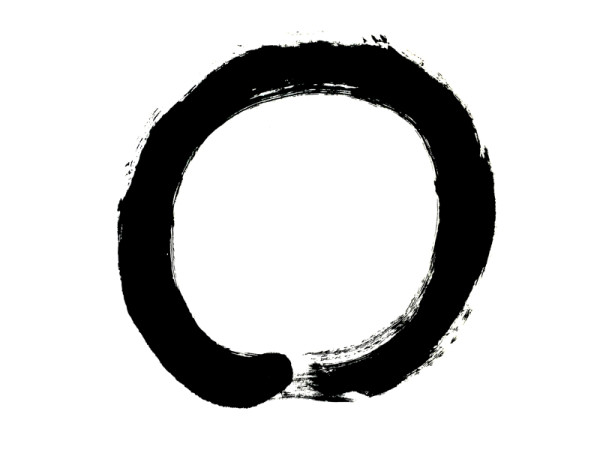 We live stressful lives. We have work, family, business, relationships, and a gazillion other things in our minds. We are constantly under pressure that we yearn for, even it is for a few minutes, a way out of our minds. Some people exercise, others do recreational activities such as going to the beach or a park. Many people turn to fiction, immersing themselves in a movie or a novel as a way to escape from it all.
A mistake some people may do is that they turn to calligraphy practice or Zen meditation in search for a way to escape from the stress and worries of daily life. A common misconception about Zen meditation is that it is aimed at taming the mind. This becomes even dangerous when some organizations will promote such practices with "mindfulness" for label and sell the illusion that such practices will help us be calm and happy. 
Numerous studies and articles on mindfulness are only focusing on the benefits the practice has to present moment awareness and stress reduction effect, however, the definition of mindfulness from a western context differs from the classic Buddhist canonical sources (Purser & Milillo, 2015). It is argued that most mindfulness practices that are being implemented in many organizations are lacking the understanding of what mindfulness is from the context of Buddhist tradition. Therefore, mindfulness is then reduced to a self-help technique that can be misused by corporations to promote non-judgement of work environments and have employees accept and cope with their jobs, including cases where the work environment may be toxic (Purser & Milillo, 2015). Purser and Milillo argue that mindfulness is not equivalent to non-judgmental awareness and that Buddhist mindfulness is not merely a practice to reduce stress. In the context of Buddhist practice, mindfulness is not a state of relaxation but a state of realization. 
"Buddhist mindfulness has a clear soteriological purpose: liberative cognitive transformations that dramatically lessen self-centeredness by removing mental afflictions and unhealthy states of mind, while enhancing ethical sensitivity, moral development, and an altruistic concern for the welfare of all sentient beings. Right mindfulness is grounded in an embodied, first-person, and ethically informed theory and practice. (Purser & Milillo, 2015)"
The concept of being aware of the present moment is to not drift away from discerning wholesome from unwholesome mental states (Purser and Milillo, 2015). Classical Buddhist texts define mindfulness as an active state of retention and remembrance; a state of realization of one's true self. 
If we then approach Zen meditation and calligraphy practice from this point of view, the purpose is not to shut the mind off, or to drift into a relaxed state of mind because we want to be free of thoughts and worries. If you sit down at your table to practice calligraphy with this concept in mind, your brushwork will be lifeless and boring. 
Calligraphy practice is not for relaxation in the sense that it will help you escape from the present moment. It is instead a tool that forces you to face the present and concentrate wholeheartedly and mindfully on what you're doing, leaving you with no room for negative thinking, unwanted thoughts, and daydreaming. When I'm in need to escape from the stress of everyday life, I don't go downstairs to the studio, instead I put on a mindless action movie, read a comic book, or noodle mindlessly on the internet.
---
References:
Purser, R. E., & Milillo, J. (2015). Mindfulness revisited: A Buddhist-based conceptualization. Journal of Management Inquiry, 24(1), 3-24.