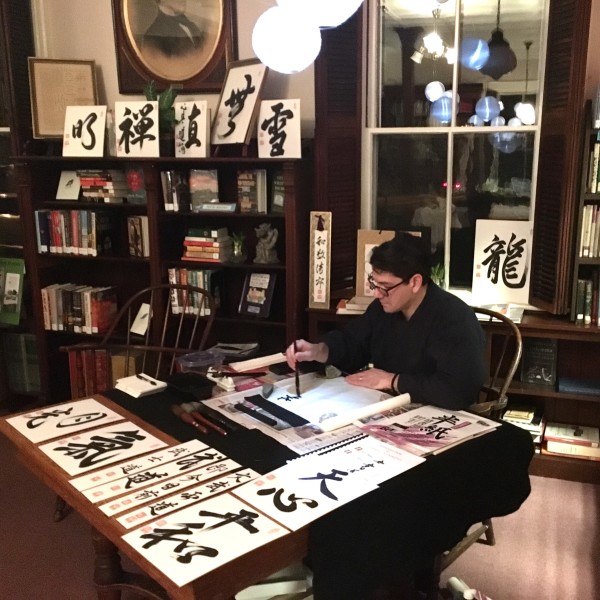 Kanji characters are intriguing. They draw you to them. Those beautiful, complex characters not only look cool, but they also mean something. We are drawn to characters when its meaning resonate with us.
Last Sunday, I had the honor to do a calligraphy demonstration at the James Library in Norwell, MA. The library hosted Arthur Golden, author of the bestselling novel Memoirs of a Geisha. It was a very intimate event in a beautiful historic library. I had a table in the corner across from where Mr. Golden was signing books. A lot of people came over to my table to watch me brush calligraphy. I brushed a bunch of names in Katakana and Rachel did a great job at selling my shikishi boards.
The folks attending this event were obviously interested in Japanese culture. Memoirs of a Geisha is a historic fictional novel about the life of a Geisha in Japan during World War II. Mr. Golden, having lived and worked in Japan for some time, knows a lot about Japanese culture. His talk was extremely interesting. He spoke about his experience of living in Japan as well as the process of writing a novel when answering questions from the audience. The evening culminated with a Geisha performance.
The most popular calligraphy of the night was Everyday is a Good Day. I kind of knew that was going to be the case. Everyday is a Good Day is something we should all be reminded of. The characters look amazing. I brush this calligraphy in the Zen style of Yamada Mumon and Yamaoka Tesshu. The first kanji, Nichi, is brushed with bold and strong strokes and takes most of the space, the remaining of the phrase is brushed small vertically on the side. It is that first character that draws the attention.
For folks who do not practice Zen or martial arts, some calligraphies may be irrelevant or unappreciated even if the calligraphy is beautifully composed with strong and elegant strokes. This is because the meaning does not resonate with them. They want the calligraphy to look beautiful, yes, but also to say something meaningful to them.
This happens to me as well. My background is Aikido and Zen, so I'm drawn to calligraphies which meaning are related to these practices. Although Everyday is a Good Day is a Zen phrase, it resonates with everybody regardless of whether they do Zen or not. Who doesn't want to be reminded that Everyday is a Good Day? Although there is a specific Zen meaning to that phrase, anybody can have their own interpretation of what a "good" day is. In contrast to phrases like SUIGETSUDOJO, which means "the moon water dojo". The moon water what? Exactly. While aesthetically appealing, the meaning is too abstract or "strange" for regular people to be drawn to it.
I don't brush many "mainstream" calligraphies such as "peace" and "love". I don't because as an artist I try to create calligraphies that challenge me and I want to channel my KI (energy) into every stroke. I'm personally drawn to Zen calligraphies. However, while brushing calligraphy at the James Library I realized that I should do more calligraphies that resonate with most people. Sometimes my job as an artist is not all about myself, but also to create art that will inspire and make other people happy.
Next time you sit down to brush calligraphy, try to focus not on what you are getting from it, but what it can do to others when they see it and appreciate it.