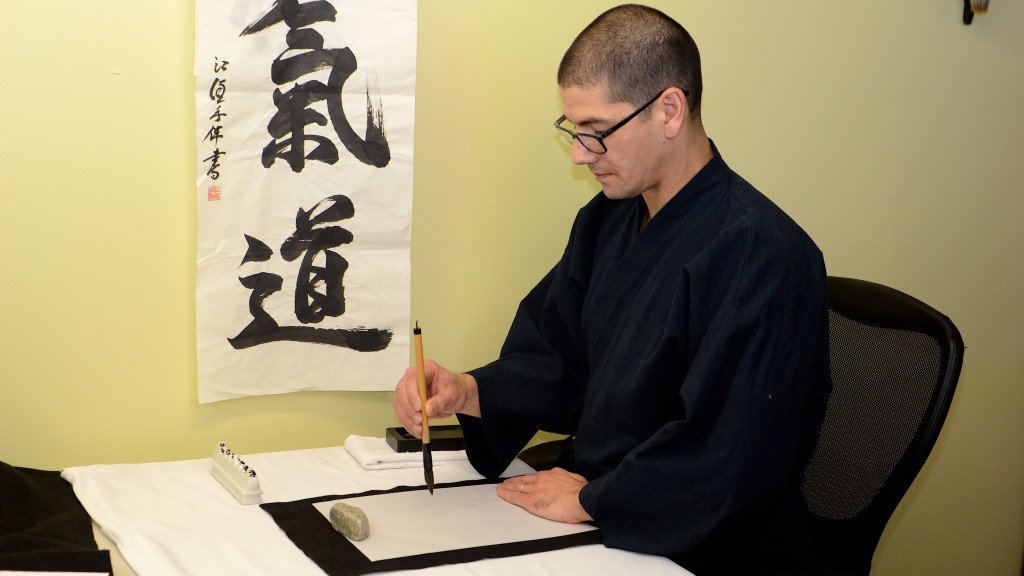 Last week, I wrote about the how terms Meiso Ho (meditation) and Kokyu Ho (breathing) are used in Aikido. The connection between martial arts, zen, and calligraphy is a deep one. Omori Sogen Roshi, founder of Chozen-Ji Rinzai Zen Temple in Hawaii, said that calligraphy was writing zen with a brush. The practice of calligraphy is a meditative activity at its core. It requires a state of total concentration, awareness and mindfulness in order to brush lines that carry our character and manifests our true selves.
Breathing is just as important in calligraphy as it is in zen meditation and martial arts training. Breathing is the vehicle that transports us from a state of idleness to one of mindfulness. It allows us to connect with our body. To breathe properly, it is important to maintain a proper posture. A proper posture stabilizes the mind and allows you to get "in the zone". Posture in Shodo parallels the one used in zazen where we sit cross-legged on a cushion with hands placed in front of the belly.
Traditionally, Shodo is practiced while sitting in seiza (formal Japanese way of sitting on the floor with legs folded under one's knees) but this requires practice and can feel uncomfortable at first. Therefore, the most common way to brush calligraphy is sitting at a table. Unless I am brushing a big piece on the floor, such as a scroll, I always brush sitting at a table. When you sit at the table to practice make sure the table is leveled with your lower abdomen also known as "hara". Your back must be straight but relaxed maintaining the spine's natural curve. Drop your shoulders, and keep your chest relaxed. Finally, chin is drawn, and eyes are focused on the paper. This posture allows for proper breathing and connection of mind and brush. Breathe naturally through your nose. Then, push the air down into your lower abdomen concentrating on the Tanden (丹田). Tanden is the point of strength in your lower abdomen: the center of tension. Extend that tension and energy to your hands with each exhalation. Lines drawn at the point of exhalation carries the maximum amount of Ki energy flowing through your body. At the same time, focusing on the breath helps maintain a state of total awareness and alertness.
If you practice your lines with proper posture and breathing they will be full of energy and vitality; even if they are not done correctly. According to Omori Roshi, Master Tokusui Oda was a master of calligraphy and judo and is quoted as saying: "The calligraphy of Zen priests, even if poorly executed, is boldly written with a strong sense of confidence. This is amazing".
This may seem like a simple practice but it takes time to master. Understand the difference between calligraphy brushed with proper posture and breathing and those without. During practice we tend to focus too much on technicality and often ignore to connect with our brush at a deeper level. Good technique is good and necessary but we can't ignore to include one important element in calligraphy: our hearts.