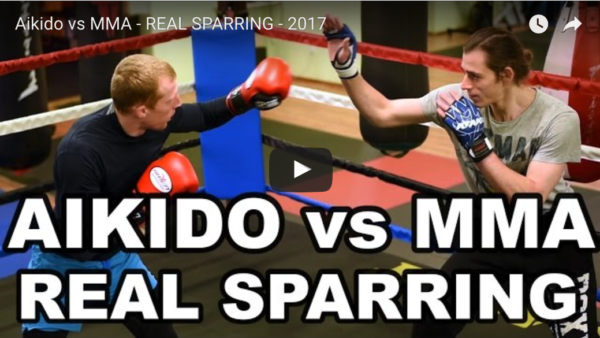 On May of 2017, the video above showed up on YouTube showing an Aikido instructor sparring with an MMA (Mixed Martial Arts) fighter. As you can probably imagine, and naturally so, the Aikido guy gets his ass kicked by the MMA guy (not that bad though, they were just sparring). His insights at the end of the video were pretty good, and he wasn't delusional thinking he had any chance against the MMA fighter. Naturally, the video started an extensive internet conversation on the effectiveness of Aikido training. Having trained in Aikido for 22 years, two-thirds of my entire life, I figured I would give my two cents on this subject.
MMA has gained massive popularity in the last two decades, or so thanks to UFC (Ultimate Fighting Championships) televised fights where fighters face each other in full contact. Some of the best UFC fighters, like Ronda Rousey, became famous for their fights and have reached celebrity status in Hollywood. These UFC fighters are modern day gladiators, cheered and well compensated for their abilities and skills in the ring.
MMA training identifies the most effective techniques of many different martial arts. The training strips down all other "unnecessary" elements of the martial arts, including body movements, exercises, or any additional training that's aimed at developing character and spirit. The newer generation, looking for martial (or self-defense) training, have been less and less focused on the traditional martial art system of training mind and body, and become more interested in learning just effective body movements. Interestingly, in the early days of UFC, the most famous fighter and most influential figure in modern MMA was Royce Gracie. Gracie won many UFC fights using traditional Brazilian jiu-jitsu ground defense techniques.
The rise in popularity of MMA has affected the reputation of traditional martial arts such as Aikido. Traditional martial arts became popular in the 70's thanks to Bruce Lee and the martial art's fever of that era. It is often said that Aikido, in particular, saw its heydays in the 80's and 90's, when a fleet of Japanese Aikido instructors left Japan and opened schools in other countries. They built their own organizations and spread Aikido around the world. The popularity of MMA has led to many folks comparing MMA to traditional martial arts, often putting MMA against them (such as the video mentioned earlier) to see if they even "work." Of all the martial arts, Aikido is the one most frequently squared off against MMA to prove that it does not work in real life and that modern Aikido is more of a dance than a true self-defense system.
There are many different styles of Aikido today. Some are soft and gentle while others are bit harder and rougher. I'll probably say that my lineage of Aikido, coming from Shihan Fumio Toyoda, can be classified as a harder style of Aikido. Toyoda Sensei strongly focused on the physicality of Aikido. He demanded strongly committed attacks, effective techniques, and hard falls. However, videos like this don't help Aikido's image regardless of style. Aikido dojos, who are already struggling with low memberships, have to continually answer questions about how can Aikido be effective in a fight. I personally believe that to raise the popularity of Aikido; we need to stop defending Aikido from MMA.
I believe Aikido is a martial art, but it's not a self-defense system. Students really strive in Aikido when they come looking for self-defense, but they find a martial art instead embracing the training for what it is and what benefit they can get from it.
I've written more detailed articles on what Aikido is and its application explaining in more detail the difference between martial art and self-defense. I believe this whole thing of Aikido vs. whatever is irrelevant once you really understand the true meaning and purpose of martial arts.
Aikido has nothing to prove; it does not need to win any matches, tournaments or championships to be worthy or respected. What it needs, however, is practitioners and instructors promoting the real benefits of Aikido to a world filled with anger and violence. Modern Aikido was born in post-war Japan when half of the world was in ashes after World War II. Does our generation need to have a similar experience to appreciate the benefits of a martial art that focuses more on character, spiritual and mindful training more than joint locks, kicks, punches, and throws?