The video below is my demonstration during the 20th Anniversary Seminar of ZENSHINKAN dojo in 2009. Uke: Jen Caron, Rachel Welter, Vadim Chuyanov.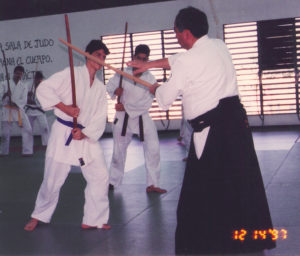 My Aikido training has been the driving force of pretty much anything I've done and continue to do. I started training in 1995, at the age of 14, because both my brother and my sister were training at the time. Every night they went to the dojo while I spent the night alone at the house. It wasn't long until I decided to hop along with them and do something with myself. The dojo, called GOSHINKAN (悟心館- the enlightened mind), was located in Bayamón, Puerto Rico. Iris Ruiz Sensei was the chief instructor. I trained there 4 to 5 nights a week all throughout my high school years. When my friends were going out, joining basketball teams, and socializing, I spent most of myfree time at the dojo. Our dojo was a member of the Aikido Association of America (AAA) led by the late Fumio Toyoda Shihan. Toyoda Sensei came to teach a seminar in Puerto Rico every December since the dojo joined his organization in 1994. Some students of GOSHINKAN had traveled to Chicago to train with Toyoda Sensei at seminars, camps, and Kenshusei (summer live-in training) programs. I was still a bit young and didn't have money to do such things, but I thought were cool. Then, in 1998, my brother left the house to join the army, my sister left the house to go to college, and I, once again, was alone at my house. My mom knew it would be a pretty gruesome summer if I'd stay in the house doing nothing, so she told me they would do whatever they could to afford sending me to Chicago to train for the summer. I didn't think it twice. It was my first plane ride ever and my first time away from  home.
My experience at Toyoda Shihan's dojo in Chicago, called TENSHINKAN (天心館- heavely mind) is material for another blog post, but let's just say it changed my life forever. Upon my return to Puerto Rico my Aikido had transformed and my instructor noticed it. I was given more responsibilites at the dojo and also started teaching my first classes.
In 1999 I graduated from high school and I've decided to attend culinary school. At the time, the two best schools in the country were the Culinary Institute of America in Hyde Park, New York and Johnson & Wales University in Providence, Rhode Island. My decision to choose JWU over the CIA was pretty simple: there were no Aikido dojos affiliated with AAA near the CIA, so off to JWU I went.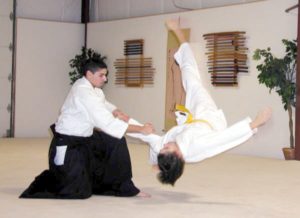 When I told Toyoda Sensei I was moving to Providence to attend college, he immediately advised me to join SHOSHINKAN (正心館- correct mind) dojo under Frank Gallo Sensei. I did as Toyoda instructed and SHOSHINKAN dojo was my new home. I trained at SHOSHINKAN throughout my college years, and much like when I was in high school, I didn't do much of the college "life"– I spent my time at the dojo. It was during this time training at SHOSHINKAN that I met my future wife, Rachel, who joined the dojo in 2003.
Toyoda Sensei passed away unexpectedly in July 2001. His organization, the AAA, went through a period of adjustment and transition. Many dojos remained affiliated with the AAA, but others decided to split and go their separate ways. After graduating from college I also entered a period of transition. I was feeling that my training had reached a plateu, and that in order to push it forward I need to look into some kind of internal training. Toyoda Sensei wasn't around anymore to push me forward, so the task relied strictly on me– I was responsible for my own development. Rachel and I started visiting ZENSHINKAN (禅心館- zen mind) dojo in Worcester, MA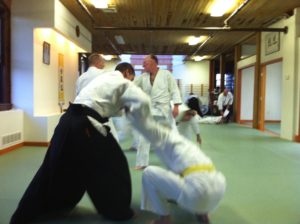 a few times a month to sit in zazen and train in Aikido with Bob Caron Sensei. Caron Sensei's Aikido is strongly rooted in Toyoda's style and his dojo emphasized greatly the integration of Aikido and Zen. I had not trained in zazen since my summer training in Chicago, so I was excited to have it part of my training once again. It was clear to me that ZENSHINKAN was the place for me to continue my training and development, so Rachel and I joined in 2007. In ZENSHINKAN dojo I found a place that truly honors the traditional Aikido traning of Toyoda Sensei. ZENSHINKAN dojo has quite a unique story of its own. To learn more about ZENSHINKAN visit their website here.