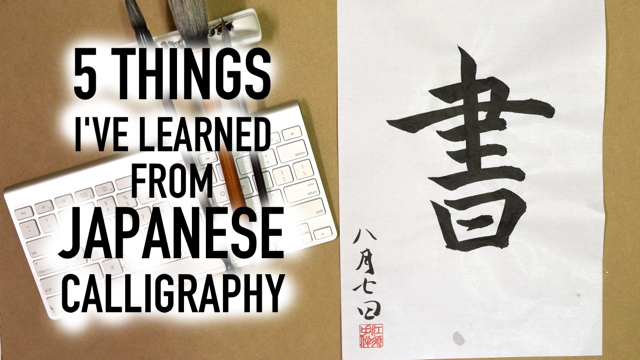 I just finished making a video for my August Daily Kanji series. I brush one kanji every day for the month of August. But not only that, I also try to tell a short story based on the word behind the Kanji I am brushing.
In tonight's video, which will go live on my YouTube Channel today, I brush the Kanji of DO or michi, which means "path" or "the way". In it I talk about why I'm committed to brushing one Kanji every day.
Shodo is a lifelong journey. It is not something you can master quickly. It takes time, dedication, and love for the art in order to develop the skill to create beautiful characters.
I say that my Intro to Japanese Calligraphy Online Course is a way to learn the fundamentals of Shodo and to begin the path to a lifelong journey. I say this because I can teach you the basics, but you must put in the time and practice. You must find your path and take on the journey.
Norio Nagayama defined Shodo as the quest for the meaning of life through the practice of calligraphy. I find this to be the most accurate definition of Shodo.
These are 5 things I've learned about Japanese Calligraphy that are helping me on this quest.
1. THE ONLY WAY TO IMPROVE IS BY CONSTANT PRACTICE
To learn how to write Roman letters can be difficult. Imagine how hard it is to learn how to write Chinese characters! Shodo is not easy. The only way to get better is to put in the time and effort. I've been practicing Shodo for almost 20 years and I am doing a daily challenge because I want to get better at it. Learning and improving never stops.
2. SHODO FORCES YOU TO LIVE IN THE MOMENT
One of the rules of Shodo is that once the line is drawn there is no re-touching or going back. You only have one chance at brushing the Kanji and it will be a direct representation of your state of mind. Are you feeling anxious, nervous, or stressed? Then expect your calligraphy to look rigid, disproportionated or sloppy. Sometimes my calligraphy is coming through horribly. I need to change my mindset. Sometimes a cup of coffee, a nap, a walk, or a glass of wine help me settle my mood.
3. YOU HAVE TO LET GO
Buddhism teaches that attachment leads to suffering. Learning how to let go of things can be difficult. Shodo is extremely personal. But you need to let go of this beautiful thing you've created. I don't own my best work. My best calligraphies have either been sold or given away. Although it was hard to put those calligraphies in a box and ship them, I feel much better knowing that they are on display somewhere inspiring people rather that rolled up in a tube somewhere in my office.
4. SHODO NURTURES CREATIVITY
Kanji characters are not only beautiful, they also mean something. A work of Shodo is not only aesthetically appealing but also carries a message. You can get creative not only with what you want to say, but how that message is projected. Every creative decision I've made is sparked by my Shodo practice. Things like writing these articles, or creating videos, or brushing scrolls. All that creativity is fueled by my daily Shodo practice.
5. LIKE ZEN, SHODO RAISES AWARENESS
Handling a brush will teach you a lot about every movement of your body. You need to be aware of your breathing. You need to settle your thoughts. Although you are focusing on the paper, you are also aware of your surroundings and what's happening around you. This awareness can be applied to so many things in your daily life, specially martial arts training.
These are only 5 things I can list today, but I'm sure if I think harder I can come up with 20 more.
Maybe I'll share those on another day.